O αναγνώστης διαβάζει αυτό που θέλει να διαβάσει, ανεξάρτητα από αυτό που γράφει ο συγγραφέας.
Marcel Proust.
Δε μ' αγαπάς ως σ' αγαπώ δεν έχουμ' ίδιο πόνο,
εγώ τον έχω στην καρδιά μα συ στα χείλη μόνο.
Το Αίνιγμα της Ομορφιάς, The Enigma of Beauty
Χρόνε παμφάγε τύραννε, λιοντάρι αγριεμένο,
άσε τη γη, ελέησε ν' ανθίσει η σοδειά της.
Άδικα λόγια, από θεριό καλό τι περιμένω;
Αχ φύγε, μετανόησε λυπήσου τα παιδιά της!
Σαίξπηρ Σονε?το ΧΙΧ
Στο παρακάτω βίντεο ένας Ιταλός καλλιτέχνης ο Rino Stefano Tagliafierro , δίνει ζωή σε γνωστούς και άγνωστους πίνακες ζωγραφικής. Απολαύστε το!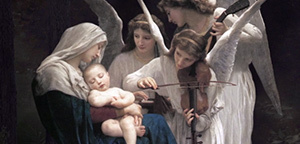 Πίνακες που χρησιμοποιήθηκαν κατα σειρά εμφανίσεως:
Asher Brown Durand - The Catskill Valley?
Thomas Hill - Emerald Bay, Lake Tahoe
Albert Bierstadt - Among the Sierra Nevada Mountains
Ivan Shishkin - Forest edge
James Sant - Frau und Tochter?
William Adolphe Bouguereau - L'Innocence
William Adolphe Bouguereau - Song of the Angels
Ivan Shishkin - Bach im Birkenwald
William Adolphe Bouguereau - Le Baiser
William Adolphe Bouguereau - Nature's Fan- Girl with a Child
William Adolphe Bouguereau - The Motherland
Ivan Shishkin - Morning in a Pine Forest
William Adolphe Bouguereau - The Nut Gatherers
William Adolphe Bouguereau - Two Sisters
William Adolphe Bouguereau - Not too Much to Carry
Thomas Cole - The Course of Empire: Desolation
Martinus R?rbye - Entrance to an Inn in the Praestegarden at Hillested
William Adolphe Bouguereau - Sewing
William Adolphe Bouguereau - The Difficult Lesson
William Adolphe Bouguereau - The Curtsey
William Adolphe Bouguereau - Little Girl with a Bouquet
Claude Lorrain - Pastoral Landscape
William Adolphe Bouguereau - Cupidon
William Adolphe Bouguereau - Admiration
William Adolphe Bouguereau - A Young Girl Defending Herself Against Eros
William Adolphe Bouguereau - Dawn
William Adolphe Bouguereau - L'Amour et Psych
William Adolphe Bouguereau - Spring Breeze
William Adolphe Bouguereau - The Invation
William Adolphe Bouguereau - Nymphs and Satyr
William Adolphe Bouguereau - The Youth of Bacchus
William Adolphe Bouguereau - The Birth of Venus
William Adolphe Bouguereau - The Nymphaeum
Gioacchino Pagliei - Le Naiadi
Luis Ricardo Falero - Faust's Dream
Luis Ricardo Falero - Reclining Nude
Jules Joseph Lefebvre - La Cigale
John William Godward - Tarot of Delphi
Jan van Huysum - Bouquet of Flowers in an Urn
Adrien Henri Tanoux - Salammbo
Guillaume Seignac - Reclining Nude
Tiziano - Venere di Urbino
Louis Jean Fran?ois Lagren?e - Amor and Psyche
Correggio - Giove e Io
Fran?ois G?rard - Psych? et l'Amour
John William Godward - Contemplatio
John William Godward - Far Away Thought
John William Godward - An Auburn Beauty
William Adolphe Bouguereau - Flora And Zephy
Louis Jean Fran?ois Lagren?e - Amor and Psyche
Fritz Zuber-B?hle - A Reclining Beauty
Paul Peel - The Rest
Guillaume Seignac - L'Abandon
Victor Karlovich Shtemberg - Nu ? la peau de bete
Pierre Auguste Cot - Portrait Of Young Woman
Ivan Shishkin - Mast Tree Grove
Ivan Shishkin - Rain in an oak forest
William Adolphe Bouguereau - Biblis
William Adolphe Bouguereau - Elegy
Marcus Stone - Loves Daydream End
William Adolphe Bouguereau - Head Of A Young Girl
Hugues Merle - Mary Magdalene in the Cave
Andrea Vaccaro - Sant'Agata
Jacques-Luois David - Accademia (o Patroclo)
Michelangelo Merisi da Caravaggio - San Giovanni Battista
Roberto Ferri - In Nomine Deus
Michelangelo Merisi da Caravaggio - Cristo alla colonna
Michelangelo Merisi da Caravaggio - Incoronazione di spine
Paul Delaroche - L'Ex?cution de lady Jane Grey en la tour de Londres, l'an 1554
Michelangelo Merisi da Caravaggio - Decollazione di San Giovanni Battista
Michelangelo Merisi da Caravaggio - Sacrificio di Isacco
Guido Reni - Davide e Golia
Michelangelo Merisi da Caravaggio - Giuditta e Oloferne
Michelangelo Merisi da Caravaggio - Davide e Golia
Michelangelo Merisi da Caravaggio - Salom? con la testa del Battista
Michelangelo Merisi da Caravaggio - Davide con la testa di Golia
Jakub Schikaneder - All Soul's Day
Michelangelo Merisi da Caravaggio - San Gerolamo scrivente
Guido Reni - San Gerolamo
Pieter Claesz - Vanitas
Gabriel von Max - The Ecstatic Virgin Anna Katharina Emmerich
William Adolphe Bouguereau - Portrait of Miss Elizabeth Gardner
Jan Lievens - A young girl
Johannes Vermeer - Portrait of a Young Girl
Luis Ricardo Falero - Moonlit Beauties
Joseph Rebell - Burrasca al chiaro di luna nel golfo di Napoli
Luis Ricardo Falero - Witches going to their Sabbath
William Adolphe Bouguereau - Dante And Virgil In Hell
Th?odore G?ricault - Cheval arabe gris-blanc
Peter Paul Rubens - Satiro
Felice Boselli - Skinned Head of a Young Bull
Gabriel Cornelius von Max - Monkeys as Judges of Art
Michelangelo Merisi da Caravaggio - Medusa
Luca Giordano - San Michele
Th?odore G?ricault - Study of Feet and Hands
Peter Paul Rubens - Saturn Devouring His Son
Ilya Repin - Ivan il Terribile e suo figlio Ivan
Franz von Stuck - Lucifero Moderno
Gustave Dor? - Enigma
Arnold B?cklin - Die Toteninsel (III)
Sophie Gengembre Anderson - Elaine
John Everett Millais - Ophelia
Paul Delaroche - Jeune Martyre
Herbert Draper - The Lament for Icarus
Martin Johnson Heade - Twilight on the St. Johns River
Gabriel Cornelius von Max - Der Anatom
Enrique Simonet - Anatom?a del coraz?n
Thomas Eakins - Portrait of Dr. Samuel D. Gross (The Gross Clinic)
Rembrandt - Lezione di anatomia del dottor Tulp
Peter Paul Rubens - Die Beweinung Christi
Paul Hippolyte Delaroche - Die Frau des K?nstlers Louise Vernet auf ihrem Totenbett
Elizabeth Jane Gardner Bouguereau - Too Imprudent
William-Adolphe Bouguereau - The Prayer
Michelangelo Merisi da Caravaggio - Amorino dormiente
Augustin Th?odule Ribot - St. Vincent (of Saragossa)
Caspar David Friedrich - Abtei im eichwald
Περισσότερα εδώ
Το τραγούδι της ημέρας

Χρήστος Θηβαίος , Πόσο πολύ σ' αγάπησα

Ποιητικά θραύσματα

Έχει μετέλθει πολλά επαγγέλματα.

Σε δύσκολες ώρες ιδιώτευσε
ως μεσίτης πόθων και ως προξενητής
ανεκπλήρωτων ονείρων. Επιδόθηκε
στην εκμάθηση ξένων γλωσσών : της σιωπής,
των χρωμάτων, της αφής, της μουσικής,
των ψιθύρων. Με ιδιαίτερη ευχέρεια
χειρίζεται τη διάλεκτο του μαύρου, ιδίως
όπως ομιλείται μεσουρανούντος του ήλιου.
Προσφάτως παρακολουθεί ιδίαις δαπάναις
μαθήματα αποχρώσεων και υπεκφυγών.
Στον ελεύθερο χρόνο του
προτιμά να διαβάζει ολιγοσέλιδα βιβλία
κυρίως για τα ίχνη αίματος
που αφήνουν στα δάχτυλα
καθώς τα ξεφυλλίζεις.


Δημήτρης Δασκαλόπουλος, Εντευκτήριο, τεύχ. 78